We have plenty of posts on this blog to "Keupstrasse" located in the City of Cologne that reveal many things, but who are not perceived by the "Turkish community". Not officially, anyway.
You can find these posts by clicking the label "Keupstrasse" on the right side of the blog.
After finding the "Paulchen-Videos" (Pauly, Pink Panther) in the ruins in Zwickau (or outside in the rubble …), the BKA discovered quite quickly 3 unknown crime scenes:
The "confession video" shows the nine murders. No, but it shows 3 unknown crimes.
Das "Bekennervideo" zeigt die 9 Morde. Nein, aber es zeigt 3 unbekannte Verbrechen
Machen wir weiter mit dem Propaganda-Meisterwerk der BRD-Leitmedien…
Dieselbe Akte, ein anderer Auswerter: 
We continue with the propaganda masterpiece of BRD – leading media …
The same file, another surveyor:
(Note: The file pages are here: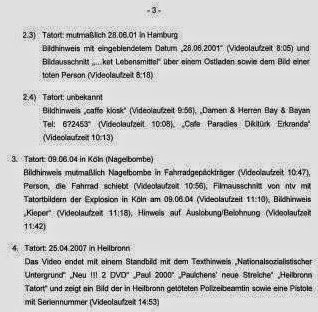 English:
There we can read:

2.3) Crime scene: allegedly 28.06.2001 in Hamburg
Picture hint with displayed Date "28.06.2001" (Video time stamp 8:05) and image detail "… has food" above a fruit shop plus a picture of a dead person (Video time stamp 8:18)

2.4) Crime scene: unknown
Picture hint "caffee kiosk" (Video time stamp 9:56) "Damen und Herren Bay und Bayan Tel: 672453" (Video time stamp 10:08). "Cafe Paradies Dikitürk Erkranda"
(Video time stamp 10:13)

3. Crime scene: 09.06.2004 in Cologne (nail bombing)
Picture hint, allegedly nail bomb in bicycle rack (Video time stamp 10:47). 
Person pushing bicycle (Video time stamp 10:56), Clip from ntv with crime scene pictures
of the explosion in Cologne on 09.06.2004 (Video time stamp 11:10), Picture hint "Kieper" (Video time stamp 11:18), Hint on offer of reward.

4. Crime scene: 25.04.2007 in Heilbronn
The video ends with a still with the text hint "Nationalsozialistischer Untergrund" "Neu !!! 2 DVD" "Paul 2000" "Paulchens neue Streiche" "Heilbronn Tatort" and shows a picture oft he police officer killed in Heilbronn and a pistol with serial number (Video time stamp 14:53)
_________________
Don't you wonder that after 2.3 (murder Hamburg 2001) continuation is not the murder of Kilic in Munich under 2.4 but the "Keupstrasse" in 2004.

´cause:

The "Bekennervideo" (claim of responsibility via video) showes the 9 murders. 
Nonsense, it showes only 3 murders.

You got it ?

Now we address to article 2.4 "unknown crime scenes"

2.4) Crime scene: unknown
Picture hint "caffee kiosk" (Video time stamp 9:56) "Damen und Herren Bay und Bayan Tel: 672453" (Video time stamp 10:08). "Cafe Paradies Dikitürk Erkranda"
(Video time stamp 10:13)

What is this ? Which crime scenes ?

Thanks to the helpers in the forum this question is solved:

They are kurdish shops in Keupstrasse.
"caffee kiosk"
"Damen und Herren Bay und Bayan" ???
"Cafe Paradies Dikitürk Erkranda" ???
Thanks to @NWO1984..

Kurdish shop Cafe Cengizhan, leftwards Dikitürk Erkranda
kurdischer Laden Cafe Cengizhan, links davon Dikitürk Erkranda
Detail: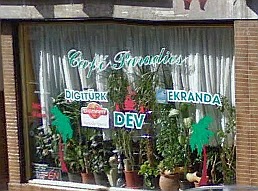 Both shops characterized kurdish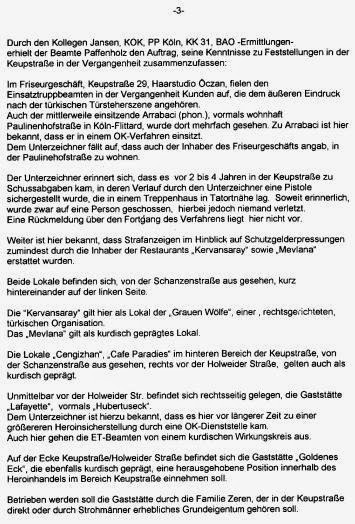 So it was an OC-Bomb instead of a Terrorbomb
English file translation:
By his colleague Jansen KOK, PP, Cologne, BAO-Ermittlungen, officer Paffenholz was ordered to summarize his knowledge about findings in the Keupstraße in the past.
In the barbers shop, Keupstr. 29, "Haarstudio Öczan, the task forces in the past noticed customers, that, from their appearance, belong to the turkish bouncer mafia. Even the now imprisoned Arrabaci (phon.), formerly resident Pauline Hofstraße in Cologne-Flittard, was seen there several times. Here is known to Arrabaci that he has to serve time in prison because of a OC (organized crime) offense. The signatory is striking that even the owner of the barber shop claimed to live in the Pauline Hofstraße.
The signatory remembers that 2-4 years ago there had been a shootout in Keupstraße wherein a pistol had been ensured in a staircase nearby the crime scene. As rememberable there has been shooting at people, however no one was hurt. A feedback about the progress of the proceeding is not available.
Next is known here that criminal complaints were filed at least by the owner of the restaurant "Kervansaray" and "Meviana" with regard to protection rackets.
Both establishments are located, as seen from Schanzenstraße, in quick succession on the left.
The "Kervansyray" applies here as the restaurant of the "Grey Wolves", a right-wing Turkish organization. The "Meviana" is considered to be characterized as a kurdish restaurant.
The restaurants "Cengizhan", "Paradise Cafe" at the far end of the Keupstraße., seen from Schanzenstraße, right before the Holweider Straße are also considered to be characterized Kurdish.
Immediately ahead of Holweider Str., located on the right side, there is the restaurant "Lafayette", formerly "Hubertuseck". 
The signatory on this purpose knows that longer time ago there has been taken a bigger possession of heroin by OC-Departement. There too, ET-Officials assume a Kurdish sphere of influence.
At the corner Keupstraße/Holweider Straße restaurant "Goldenes Eck" is located, which is also characterized as kurdish and takes a prominent position in heroin trading in Keupstraße.
The restaurant is run by family Zeren, who owns, directly or through nominees , considerable landed property.
What´s with the
"Damen und Herren Bay und Bayan" ???
Thats the barber shop, where the bomb was exploding.
That´s what the APABIZ somewhere did not recognize, … gentle cough … abstract of the transcript:
Hallo Antifa, das ist die KEUPSTRASSE !!!
[…]A group of men with migration background is standing in front of a Café on its windows you can read "Café Paradies", "Digitürk" und "Ekranda" […]

Hallo Antifa, that is the KEUPSTRASSE !!!

Und das ist Frisörsalon Yildirim. Links im Bild
[…]WDR-recording street sequence: A women with a headscarf is standing in front of a shop.[…]

And that is the barbershop Yildirim. Left in the picture.



"Damen und Herren" Ladies and Gents. Gents first named, they are Kurds … LOL
Why kurds (the wife of Özcan Yildirim is a born Demir, Hallo Ali Demir!) have been chosen specifically, that´s the question.
By whom ?
For instance from the Turkish intelligence, via "Graue Wölfe" as helping hand.
German link:
Udo Schulze (journalist, book author on NSU-Questions, is of the opinion, that the eyewitness of the explosion Türkoglu Talat is a Turkish intelligence officer.
Or ist the truth that 
much easier:

In the barbers shop, Keupstr. 29, "Haarstudio Öczan, the task forces in the past noticed customers, that, from their appearance, belong to the turkish bouncer mafia. Even the now imprisoned Arrabaci (phon.), formerly resident Pauline Hofstraße in Cologne-Flittard, was seen there several times. Here is known to Arrabaci that he has to serve time in prison because of a OC (organized crime) offense. The signatory is striking that even the owner of the barber shop claimed to live in the Pauline Hofstraße.
Who is Arabaci ?
Necati Arabaci
Necati "Neco" Arabaci (born February 14, 1972 in Cologne) is a Turkish businessman and criminal, who was formerly active inCologne, Germany. In 2002 he was arrested for pimping, human trafficking, assault, extortion, weapons violations, and racketeering. He confessed during his trial in 2004 and was sentenced to nine years in prison.[2] He was released in 2007 and deported to Turkey.[3]
Once more we didn´t solve anything but jump to the trial visit (the "Bandido"-trial) of Beate Zschäpe in 2010.

And we arrive at the Bandidos-DNA, which was found in the ruin in Zwickau and also was found 2012 on a cartridge case whose bullet was shot at Bandidos by Nomads Turkey.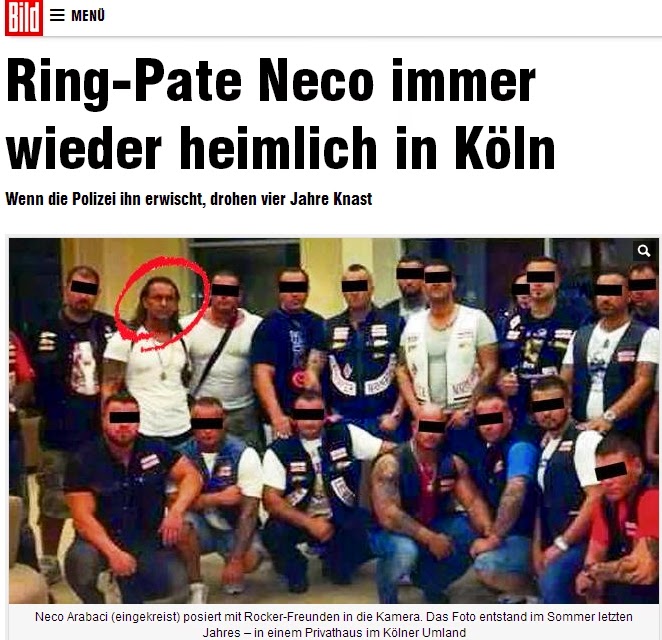 Neco again and again visits Cologne secretely. If police catches him, he is expected to go to prison for 4 years.

How do you call a deported criminal, entering and leaving the country with false documents being unaffected by the police ?

No, I do not think about Mr. Turgut, really not;)
(Turgut is the name of one of the 9 shot migrants…)

In general …

This is usually called a "V-Person" (confidential informant).

But the story provides us with a brilliant background for the Keupstrasse-bombing, don´t you think so ?

ARD-Magazin Report 2006 thought so:

http://archiv.pro-koeln.org/artikel2/keupstrasse.htm

Nail bomb in Keupstraße:
Act of revenge in the Turkish-Albanian bouncer war ?

The ARD-magazine "Report München" presented in their yesterdays edition an interesting thesis on the assassination in Keupstraße Cologne:
Perhaps the nail bomb was dedicated to a follower of Turkish pimp king Necati Arabaci who was in a barber shop in the neighborhood. Six "soldiers" of this Turkish bouncers and pimps gang have to stand trial on next Wednesday in Cologne. They should have bashed up two milieu competitors from Kosovo with clubs in April 2003. 

Arabaci, the "General of Cologne Turks", is already in prison – nine years arrest because of miscellaneous unsavory delicts. But according to findings of cologne security authorities the time in prison does not keep him off from continuing his business. Therefore, it is already considered preventive detention for this notorious criminal.

Then Arabaci could be incarcerated for much longer than nine years.
The TV report showed again how dangerous the Cologne red-light actors are. In the battle for gaining additional market shares in human trafficking, prostitution and drug dealing the morals are becoming increasingly brutal. Especially foreign prostitution rings and bouncer gangs display a never seen brutality hithereto. In the pimp war between the Turkish gang of Necati Arabaci and his Albanian Counterparty from Kosovo, for example, after the above mentioned club bashing shootouts on the open road followed
Rolf Rainer Jäger of German association of detectives (BdK) described the current situation in the TV-report:

"There are clear insights, that ethnical isolated structures work here also. That there are Turks groups, but also groups of offenders from South East Europe, from Eastern Europe, who assert their position in this criminal landscape by very ruthless and brutal practices, that´s the way, they gain respect.

And if the police does not work here and does not put a clear focus on opposing this crime, they will celebrate even more "triumphs" with their brutality. This we cannot allow.
It was further stated in the report:

Camouflaged as nudist clubs, the luxury brothels Babylon in Cologne and Wiago in Leverkusen, is the nucleus of the power center of Necati Arabaci who still, with insights of the criminal investigation department, has a share in the revenues.

The business concept is simple: several hundred prostitutes are continuously channeled through the establishments which, looking proper from the outside, should not offer any point of attack.

One more quotation on that:

The motive is further more open. In addition to a private or political background senior prosecuter Rainer Wolf also does not exclude a conflict in the milieu. As the "Kölner Stadtanzeiger" (Cologne Newspaper) learned, one alleged member of the gang of jailed red-light-Godfather of Cologne, Neco A., was injured during the attack. The police confirmed, that Tamer A. was in the barber shop, the nail bomb explodes in front of.

From the eyes of the prosecutor, the 31-year old is a "soldier" of the most powerful Turkish group on "The rings" (Boulevard around the historic district of Cologne) .

Tamer A. disappeared from hospital.
Nereus in politikforen.net on this:
At the sight of this Turkish thug Osman T., brother of murdered pimp Süleyman from the greengrocery Hamburg, I also thought on "bouncer", when in front of the court in Munich he murderously attacked a German, supposedly only for looking the wrong way, and shouting at him: 
"I´ll break your legs. I´ll kill you all! We´ll get you all!"
Take care, Mr. Eminger
At the time, Fatalist about this:
Bio would say, they are not all the same and he would be right on this.
My buddy from the "Piraten" (german Party) sees it the same way. 80% see it like that.
As we can read in Wikipedia, Neco a was deported in 2007 and since then he is traveling with false documents… you get on to V-Mann immediately.
The bombing trial in Keupstrasse was abandoned, and was executed one hour later…
did one waiting for someone special???
Also the "Spiegel" (German News-Magazine) knows something to tell us, December 2013

War of brothers at Hells Angels

So much for brotherhood and male society: inside of the German Hells Angels rages a fierce battle about power, it is it is shot and beaten. The young wild ones plan the revolt against the ancestors. Will there be a division of the gang in the end ?

Hamburg – It was Friday the13th and a pretty bad day for Hells Angels leader Turan U., called Taki". ´Cause this bleary September evening a raiding party attacked the clubhouse on the "Breiten Straße" in Krefeld. The men, apparently up to 60, threshed the rocker and shot him in the thigh. When Police asked the severely injured, who had penetrated him so bad, he kept quiet. And that for good reason.

Supposed by the police, the attackers came also from the Hells Angels and partially belong to the neighboring association. The prime mover behind this attack, this bloody conflict among these alleged "Brothers", investigators think, is the Hells Angels branch Nomads Turkey, an assembly of very doubtful reputation around the former godfather of Cologne, Necati Arabaci.



And this can be concerned with the events on 04.11.2011 in Eisenach. With the bank raid, with the longhaired man at the camper, and also with undercover informants, found with heads shot to pieces.
Nothing is impossible.
_____________________
At Beckmann, in TV, a resident also reported something remarkable in 2011.

According to the testimony of Hülya Özdag at Beckmann on 17.11.2011 the perpetrators wanted to place the bike in the middle of the street in front of a restaurant. At the end or at the beginning of Keupstraße there is a strong clustering of restaurants in a small area.
But as the staff of this restaurant was cleaning outside and saw that, they sent the perpetrator away.
He then went on a few yards and put the bike in front of the hair salon.

Hülya Özdag, Orientalische Feinkonditorei Hasan Özdag GmbH
Keupstraße 84
51063 Köln

So the hair salon maybe wasn´t the original target.

From the file Keupstraße to this

The conversation was summarized by Mrs. Ozdag as follows:

"The daughter of the restaurant owner MEWANA told, that the perpetrator with the bicycle tried to park the bicycle shortly before the attack in front of the MEWANA, but wasn´t allowed by a person to do so. The man, then, moved away.

Henceforth, Mrs. Giler by has learned the whole issue only by hearsay and allegedly cannot name further eyewitnesses. Though, the already above mentioned issue by Mrs. Özdag "is told" in Keupstraße.

The homepage is here: http://hasan-oezdag.com/

His brother in law,
Muhenin ÖZnBum
tOl
0l 64 in Agri
Keupstr. 4749 was inside MEVLANA and led the business at the time of the crime.

Thereto Muhettin Özdemir was asked. Muhettin Özdemir confirmed this and added, that he does not know anything about a male person with bike in front of the restaurant being sent away.

On interrogation, it was reported, that at the time of the crime approximately 10 customers were in MEWANA. None of these customers known by name.

The person Özdemir could not give any further hints.

It was senseless with the neighbors… nothing useful at all.
But spreading rumors in Television 7 years later…
By the way, looks great this restaurant.

A real tip.
We determine: The bomb in Keupstraße was apparently directed against Kurds.
It´s not known, If it was an involvement of the "Grey Wolves" or the Turkish intelligence service. PKK (so kurdish) funding sources could have played a role as well as the turkish-kurdish pimp clan.
After all, 600 "Grey Wolves" wanted to burn out de Kurd in 2010.
https://www.youtube.com/watch?feature=player_embedded&v=G3aC1HPuJdY
"Grey Wolves"
Rampage: Police blocks Keupstraße
Approximately 150 Turkish extreme right-wingers wanted to storm Keupstraße to smash windows of shops. This was prevented by a large number of police. Around 600 Persons gathered in Mühlheim.
After all it was Mr. Christian Mehnhorn from BfV (Federal Office for the Protection of the Constitution) who intervened at the operation center of NRW (North Rhine-Westphalia) police department, so that "Terrorbomb" should be changed in "OC-Bomb".
Why?
´Cause he had knowledge of this bomb, why else ?
What operation –and by whom- is suitable to allow the BfV such knowledge.
"Uwes" or "Grey Wolves" or "Neco Arabaci" oder Turkish Intelligence Service?
As the "Uwe-Story" is simply disproved, it remains as realistic option, that "Grey Wolves" under the guidance of Turkish secret service (meaning: GLADIO, Ergenekon) covered by BfV?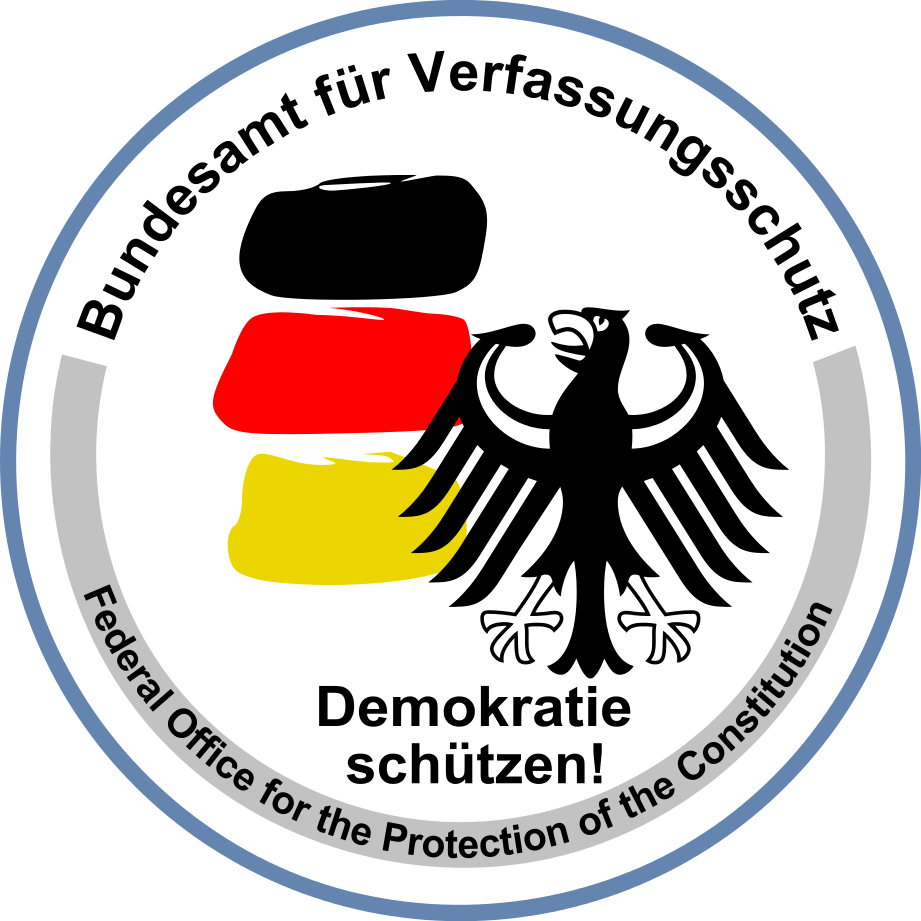 http://fatalist.freeforums.org/